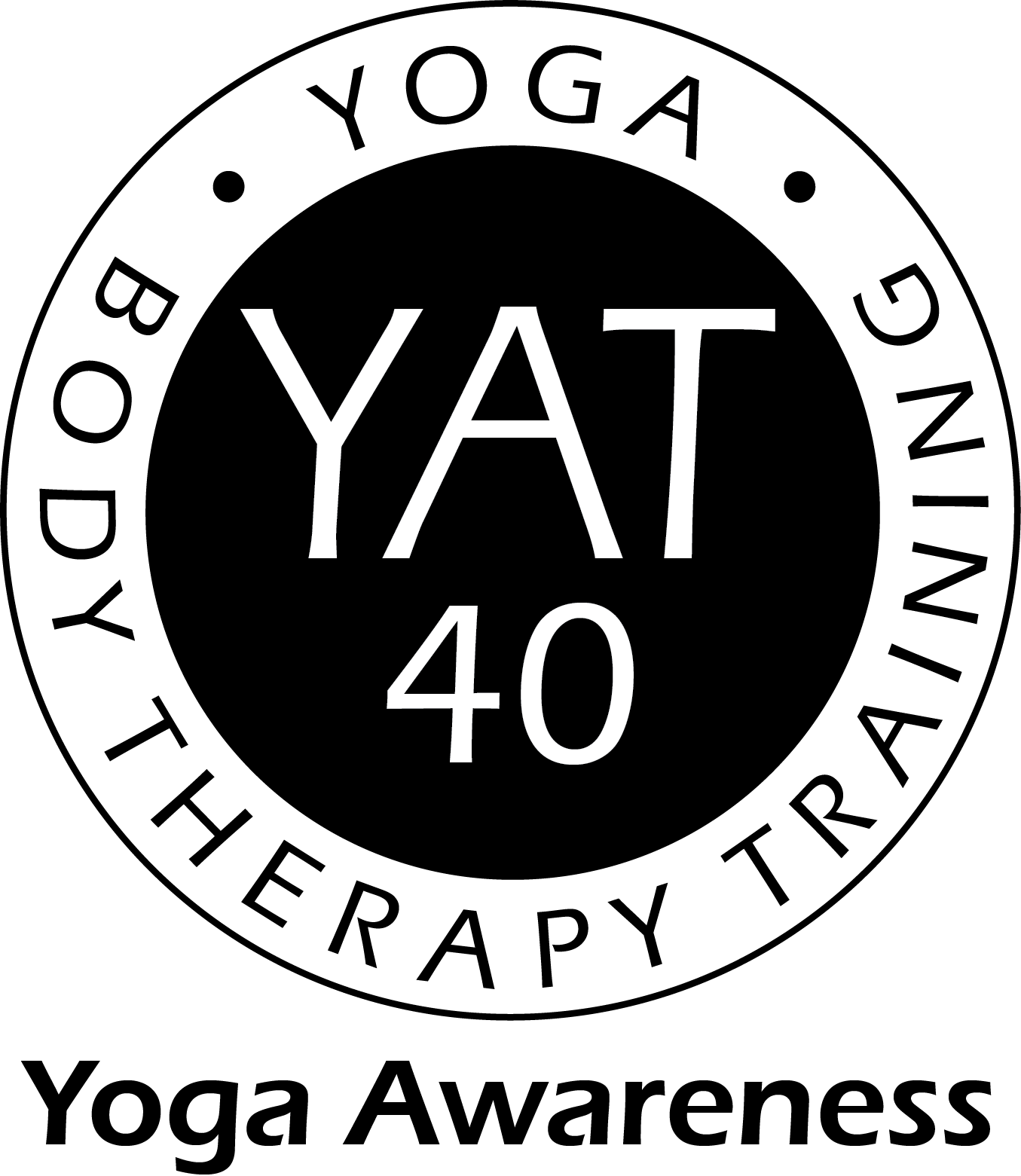 Body Therapy Training
YOGA IMMERSION
YAT 40
Yoga Awareness 40 Hours Certified
STUDIO 3 DAYS OR 6 HALF DAYS + HOME 1 MONTH

---
Training Overview
BODY THERAPY TRAINING YOGA IMMERSION YAT 40 is daily Asana group class followed by Asana theory and demonstration, Pranayama breath introduction, Chanting practice, Meditation practice and Asana sequence drawing. The Indian philosophy of 'attention and ease' is the foundation to a healthy and transformative Yoga practice. Learn the principles of siksana (technical) and cikitsa (therapeutic) applications to develop intelligent asana practices for your body !
STUDIO TRAINING - DAY 1
AM: Overview of Yoga, types of teachers and styles • Describe / define asana • Rules of practice • Practice: IN and EX in asana.
PM: Describe Ashtanga (8 parts) and purpose of Yoga • Distinguish the difference between Western and Eastern Ashtanga • Breath and movement co–ordination • Practice: Breath and Movement.
STUDIO TRAINING - DAY 2
AM: Styles of Yoga and confusion of clubs • Purpose of Ashtanga • Definition of asana • Practice: Advantages of sthiti.
PM: Raja Yoga and Krishamacharya lineage of teachers • Sthiram & Sukham • Bhavana • Siksana, Cikitsa, Raksana • Practice: Finding Patanjali in asana.
STUDIO TRAINING - DAY 3
AM: Classification of asana, ways to move spine • Identifying imbalances to increase flexibility or strengthen • Practice: Asymetrical verses symetrical.
PM: Review day 1 - 3 • Questions & answers • Establishing a Sadhana (daily practice) • Purvagam of practice • Practice: Evaluation exam.
HOME STUDY - 1 MONTH
Practice at home for 4 weeks observing your Yoga sadhana in daily life. Send a report each week and then schedule an online private with a Yoga Awareness teacher for discussion and suggested recommendations. The private sessions can be done at home online with Skype, FaceTime, FaceBook, Line or at a Yoga Awareness studio.
---
Training Price
BODY THERAPY TRAINING YOGA IMMERSION YAT 40
DURATION: 40 HOURS TOTAL (STUDIO 30 HOURS / 3 DAYS OR 6 HALF DAYS) + (HOME 10 HOURS / 1 MONTH)
LOCATION: YOGA AWARENESS - DOWNTOWN HONOLULU, HAWAII
PRICE: US$750. Deposit: 20% on registration. Balance: 30 days prior Training.
INCLUDES: Pre-requisite assessment (x1), Teaching instruction (40 hours), Training handouts, Ayurveda kitcheri lunch (x3 days), Online private (x1).
NOT INCLUDED: This is a non-residential training, ie. travel, accommodation, food (except for daily Ayurveda lunches during the training) and transport are not included.
FINE PRINT: Click to view the Yoga Awareness fine print, deposits and payments, cancellation and refund polices.
TERMS & CONDITIONS >>>
Training Format
▼ YAT 40 - Pre requisite
STUDENT PARTICIPATION: Those wishing to participate must have the willingness to learn, practice and to share the knowledge gained. The 'beginner's mind' is the best mind for this Training, no matter if you're an advanced practitioner or an absolute beginner. Physical limitations are no constraint for this training.
▼ YAT 40 - Yoga Immersion (3 Days / 30 Hours)
YOGA AWARENESS BODY THERAPY TRAINING - YOGA IMMERSION (3 DAYS @ STUDIO)
| | | |
| --- | --- | --- |
| | Studio open | |
| | Intro / Chanting | |
| | Asana review / Q&A | |
| | Snack / break | |
| | Asana theory & demonstration | |
| | Snack / break | |
| | Asana practice & Pranayama breath introduction | |
| | Ayurveda lunch provided / Asana sequence drawing | |
| | Asana theory & demonstration | |
| | Snack / break | |
| | Asana practice & Pranayama breath introduction | |
| | Snack / break | |
| | Asana sequence drawing | |
| | Students change and depart | |
| | Studio close | |
| Evening | Homework | |
▼ YAT 40 - Yoga Immersion (6 Half Days / 30 Hours)
YOGA AWARENESS BODY THERAPY TRAINING - YOGA IMMERSION (6 HALF DAYS @ STUDIO)
| | | |
| --- | --- | --- |
| | Studio open | |
| | Intro / Chanting | |
| | Asana review / Q&A | |
| | Snack / break | |
| | Asana theory & demonstration | |
| | Snack / break | |
| | Asana practice & Pranayama breath introduction | |
| | Ayurveda lunch provided / Asana sequence drawing | |
| | Studio Close | |
| Evening | Homework | |
▼ YAT 40 - Home Training (1 Month / 10 Hours)
YOGA AWARENESS YAT 40 BODY THERAPY TRAINING - YOGA IMMERSION (1 MONTH @ HOME)
| | | |
| --- | --- | --- |
| | | |
| | Student to submit a SADHANA REPORT each week of your daily Yoga personal practice | |
| | | |
| | Yoga Awareness trainer to review your Sadhana assignments after 4 weeks (in person or skype) | |
Training Dates & Signup
▼ 2018 JAN - Honolulu, Hawaii (6 half days)
▼ 2018 AUG - Honolulu, Hawaii (3 full days)
▼ 2019 JAN - Honolulu, Hawaii (6 half days)
---
YOGA AWARENESS - BODY THERAPY TRAINING YOGA IMMERSION YAT 40


TOTAL 40 HOURS: STUDIO 3 FULL DAYS or 6 HALF DAYS / 30 HOURS + HOME 1 MONTH / 10 HOURS
---