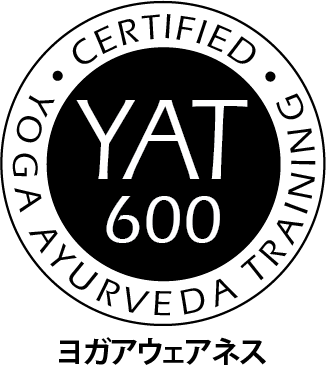 Yoga Ayurveda
SELF TRAINING
YAT 600
Yoga Awareness 200 Hours Certified
2 WEEKS STUDIO TRAINING + 5 MONTHS HOME STUDY
---
Training Overview
Yoga Awareness SELF THERAPY TRAINING YAT 600 is a certified Yoga and Ayurveda training for 6 months, comprising of 2 weeks group study in HONOLULU Oahu, Hawaii and 5 months personal study at HOME with ONLINE Skype privates. The pre-requisite for this training is the successful completion of the previous Yoga Awareness SELF THERAPY TRAINING - YAT 400.
HONOLULU
The first 2 weeks of study is at the Yoga Awareness studio in Honolulu, Oahu. The training is referenced from the second chapter of SADHANA, which teaches us how to practice. This consists of Kriya Yoga (attitude), Ashtanga Yoga (method) and Samkhya Yoga (creation). We focus on SAMKHYA, which is the self inquiry "Who am I ?" This profound question has been meditated on throughout the centuries by spiritual seekers, giving us insights of our 'true Self' (dharma) and our self purpose (svadharma) in this life. The training format includes daily Asana group classes followed by Asana theory and demonstration, Pranayama breath introduction, Asana sequence drawing, Chanting practice, Meditation theory and practice, and Ayurveda theory.
HOME
On completion of the Honolulu training you will then be required to do a home training for 5 months. This involves submitting reports each week on your daily Yoga Ayurveda personal practice.
PRIVATES
Included in your home training are three 90 minute PRIVATE sessions with a Yoga Awareness trainer to review your Yoga and Ayurveda personal practices. The Private sessions can be done at home online with Skype or at a Yoga Awareness studio.
---
Training Price
SELF THERAPY TRAINING YAT 600
HONOLULU, HAWAII (200 HOURS / 6 MONTHS)
2 WEEKS STUDIO TRAINING & 5 MONTHS HOME STUDY
PRICE: US$2500. Deposit: 20% on registration. Balance: 30 days prior Training.
INCLUDES: Teaching instruction (200 hours), Training handouts, Ayurveda kitcheri lunch (x12 days), Yoga Ayurveda online privates (x3).
NOT INCLUDED: This is a non-residential training, ie. travel, accommodation, food (except for daily Ayurveda lunches during the training) and transport are not included.
FINE PRINT: Click to view the Yoga Awareness fine print, deposits and payments, cancellation and refund polices.
TERMS & CONDITIONS >>>
Training Format
▼ YAT 600 - Pre requisite
STUDENT PARTICIPATION: Those wishing to participate must have the willingness to learn, practice and to share the knowledge gained. The 'beginner's mind' is the best mind for this Training, no matter if you're an advanced practitioner or an absolute beginner. Physical limitations are no constraint for this training.
▼ YAT 600 - Module 1
YOGA AWARENESS SELF THERAPY TRAINING - YAT 600 (2 WEEKS @ STUDIO)
| | | |
| --- | --- | --- |
| | | |
| | | |
| | | |
| | Studio open | |
| | Intro / Chanting | |
| | Asana review / Q&A | |
| | Snack / break | |
| | Asana theory & demonstration | |
| | Snack / break | |
| | Asana practice & Pranayama breath introduction | |
| | Ayurveda lunch provided / Asana sequence drawing | |
| | Study from the Patanjali Yoga Sutras | |
| | | |
| | Vedic chanting theory & practice | |
| | Snack / break | |
| | Dhyanam meditation theory & practice | |
| | Students change and depart | |
| | | |
| | | |
| | | |
| | Studio open | |
| | Intro / Chanting | |
| | Asana review / Q&A | |
| | Snack / break | |
| | Q&A for exam | |
| | | |
| | Asana practice to prepare for exam | |
| | Written evaluation exam | |
| | Ayurveda lunch provided / Asana sequence drawing | |
| | Exam review | |
| | Snack / break | |
| | Ayurveda theory & Analyze person, Food tastes / actions (rasa, virya, guna), Mala (elimination), Nadi reading | |
| | Snack / break | |
| 5:15 pm | Ayurveda theory & Analyze person, Food tastes / actions (rasa, virya, guna), Mala (elimination), Nadi reading | |
| | Students change and depart | |
| | | |
| | Homework (Ayurveda) | |
| | | |
| Sunday | | |
| | | |
| | Studio open | |
| | Intro / Chanting | |
| | Asana review / Q&A | |
| | Snack / break | |
| | Asana theory & demonstration | |
| | Snack / break | |
| | Asana practice & Pranayama breath introduction | |
| | Ayurveda lunch provided / Asana sequence drawing | |
| | Study from the Patanjali Yoga Sutras | |
| | | |
| | Vedic chanting theory & practice | |
| | Snack / break | |
| | Dhyanam meditation theory & practice | |
| | Students change and depart | |
| | | |
| | | |
| | | |
| | Studio open | |
| | Intro / Chanting | |
| | Asana review / Q&A | |
| | Snack / break | |
| | Q&A for exam | |
| | | |
| | Asana practice to prepare for exam | |
| | Written evaluation exam | |
| | Ayurveda lunch provided / Asana sequence drawing | |
| | Exam review | |
| | Snack / break | |
| | Ayurveda theory & Food attributes, Ahara Niyama (food) analysis, Menstruation, Pregnancy, Allergies, Dieting | |
| | Snack / break | |
| 5:15 pm | Ayurveda theory & Food attributes, Ahara Niyama (food) analysis, Menstruation, Pregnancy, Allergies, Dieting | |
| | Students prepare for ceremony | |
| | | |
| | Closing ceremony - YAT 600 | |
| | | |
| | Homework (Ayurveda) | |
▼ YAT 600 - Module 2
YOGA AWARENESS SELF THERAPY TRAINING - YAT 600 (5 MONTHS @ HOME)
| | | |
| --- | --- | --- |
| | | |
| | Student to submit a SADHANA REPORT each week of your daily personal practice | |
| | | |
| | Yoga Awareness trainer to review your Sadhana assignments every 2 weeks (in person or online) | |
Training Dates
▼ 2017 FEB - Honolulu, Hawaii
▼ 2018 FEB - Honolulu, Hawaii
▼ 2019 FEB - Honolulu, Hawaii
---
YOGA AWARENESS SELF THERAPY TRAINING YAT 600
TOTAL: 6 MONTHS / 200 HOURS
---