Yoga Awareness
PHILOSOPHY
Yoga Ayurveda Training (YAT) International
Yoga Awareness offers the Yoga and Ayurveda teachings of Patanjali.
" sri mate anantaya nagarajaya namo namah "
---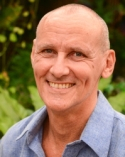 Tedd Surman (USA)
Tedd began developing these trainings in 2002 with his four teachers at Yoga Raksanam (INDIA) and Ayu Wellness (INDIA). They are designed to fit the needs of Western minded students while honoring and maintaining the integrity of the teachings of Indian philosophy. Yoga Awareness is continuously developing a higher standard of teaching for Western students. For the Yoga and Ayurveda student who wishes to dive deeper into spiritual self-study and teaching methodology there is such an abundance of information on the internet, and with 'gurus' giving whirlwind teaching tours. Our Western society is hungry for information, like a child is hungry for sweets. We're over saturated and stimulated in our modern technological era and students are notorious for jumping quickly from one teacher and teachings to another. The 'web' is giving anyone the ability to gain knowledge (vidya) of Yoga and Ayurveda but the teachings go far deeper than just mental knowledge. Yoga Awareness is more interested in the correct application of this knowledge (vivekam) and the teacher has a very important role with helping a student move forward in a positive direction. There are many levels of training which allow the student to learn, assimilate and utilize this great knowledge of wisdom. This is not a quick process and takes time for a student to be ripened for the purpose of being a professional teacher certified to the high standards of Yoga Awareness (YAT) Yoga Ayurveda Trainings ... view >>>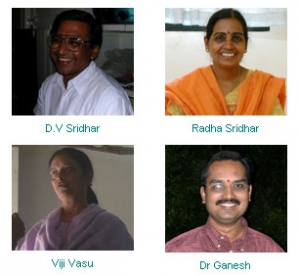 Lineage of Teachers (India)
Tedd Surman is the founder of Yoga Awareness and has been traveling to Chennai, India since 2002 to develop Yoga trainings with DV Sridhar, Radha Sridhar and Viji Vasu (Yoga Raksanam), and Ayurveda trainings with Dr Ganesh (Ayu Wellness). Yoga Awareness and Yoga Raksanam are from the Krishnamacharya lineage of teachers. "We have been fortunate to receive the Yoga Teachings of Patanjali (Raja Yoga) and the ways in which these teachings have been transmitted through the Krishnamacharya lineage, and our responsibility is to share these precious teachings to suitable and willing students." ... view >>>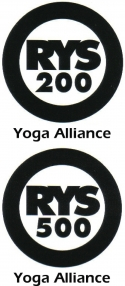 Yoga Ayurveda Trainings (YAT)
Over the last two decades Yoga Awareness (USA), Yoga Raksanam and Ayu Wellness (India) have skillfully sequenced these ancient Vedic teachings to meet the modern day needs of the Western students. In 2011 Yoga Awareness met the Yoga teacher RYT 200 and RYT 500 hour training requirements with Yoga Alliance (USA) and is now an approved RYS (Registered Yoga School).
Any student who successfully completes a Yoga Awareness training receives the Yoga Ayurveda Training (YAT) certification and automatically can register with the Yoga Alliance as a RYT (Registered Yoga Teacher) The yoga therapy components of our training are based on our Yoga Awareness YOGA AYURVEDA TRAINING (YAT) certification, not derived from our status as a RYS with Yoga Alliance Registry ... view >>>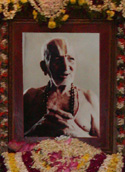 Krishnamacharya
Considered the greatest yogi of our times Krishnamacharya's work is now popular all over the world through his students, including BKS. Iyengar, Pattabhi Jois, Indra Devi and TKV Desikachar. During his life span (1888 -1988) he devoted his whole life to studying and teaching Yoga and Ayurveda, bringing the utility of a timeless discipline to the modern world. T. Krishnamacharya is from a lineage of yogis dating back to Nathamuni of the 9th century ... view >>>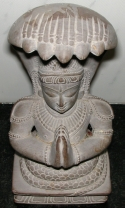 Patanjali (Raja Yoga)
Patanjali is described as the king (raja) of Yoga. Around the period of 2,000 - 2,500 BC Patanjali summarized the extensive knowledge passed down from the Vedas (5,000 - 8,000 BC). The Yoga Teachings of Patanjali are a clear and precise instruction on how to achieve the highest state of knowing 'true self'. The two ways which Patanjali has given us to reach this goal are Kriya Yoga and Ashtanga Yoga. In the East the understanding of Kriya is 'right attitude' to practice and Ashtanga is 'right method' to practice. Patanjali gave us the teachings of Yoga, Ayurveda and Sanskrit. Yoga is for the mind, Ayurveda is for the body and Sanskrit is for communication. These ancient gifts which Patanjali shared are our modern day maps for human existence ... view >>>